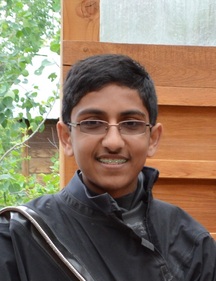 Ritik Goyal is a high school sophomore at Westwood High School in Austin, TX. He has been studying piano, theory and composition with Lisa Shirah-Hiers since kindergarten. He is the first place winner of the MTNA Composition Contest for Texas and the South Central Division and was national finalist for the 2014-15 school year for his saxophone and piano piece, Pacific Inspirations.

Q: When did you start composing?

Ritik: I started composing when I was a little over 5 years old. I was in kindergarten.

Q: What inspired you to start writing music?

Ritik: I loved the method of communicating music via notes, and I loved the feel of them. Wherever I would go, I would take a piece from a famous composer and an empty sheet with staves on it, and just copy down the entire song. Eventually, I started writing down notes randomly without looking at other's work. Most of the time, my "composition" would not even be playable, but with effort they became actual pieces.

Q: Where do your ideas come from?

Ritik: My ideas come from other music. They don't come necessarily from the exact notes that someone else composed, but instead perhaps from a mood or tone that that composer was trying to produce.

Q: What do you most enjoy about writing music?

Ritik: My favorite part of the writing process is polishing the piece after I have the first draft fully written. When I am first coming up with the idea, the process can be frustrating and it is usually very slow. However, after this is done, I have the ability to change things easily, and ideas flow more easily. It is fun to see my piece transform from a sketch to a finished product.

Q: Who are some of your favorite composers?

Ritik: My favorite composers are Mozart, Chopin, Bach, and Philip Glass. However, I don't have any strong favorites or any composers I don't like, because any piece can influence the way I think about music.

Q: What are some projects you are working on now?

Ritik: I am currently in the process of orchestrating a piece I wrote for four hands. It is extremely ambitious and one of the reasons I am working on it is to get a grasp on the different instruments out there so later on I can write a piece to send to the Austin Symphony.

Q: What do you hope to do with your music when you get older?

Ritik: I hope to continue composing when I grow up because it allows me to get away from the world. I really want to see where the world of music is headed, since it is about time that we enter another era. I want to contribute to the new styles of music that will be created by a generation influenced by media and technology.

Q: Do you have any advice for other young composers?

Ritik: The best way to get better is to practice and write as much as possible. When composing, there will be times when you get discouraged and lose motivation when you can't come up with an idea. To counter this, it is important to write the way that you write. When you write, you should illustrate your life or something that influences you. Mozart wouldn't have been Mozart if he tried to copy Bach.

Q: Any other thoughts?

Ritik: You have to play pieces by other composers to be a composer. By practicing other pieces, you will be influenced and learn different ways of thinking about a composition.